At Trinity Church Brighton, we consider our youth (those in years 7-12) to be fully part of our church and they are encouraged to be in church on Sundays and are welcome to serve and participate.
We also run a youth group, which meets weekly on Friday nights during the school term. We alternate fortnightly between smaller local events focussed around small group bible studies, and large combined events which bring together youth from across the Trinity Network.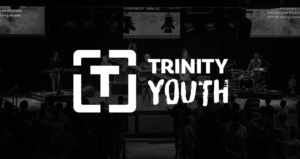 Large Events
Every fortnight during the school term, we travel together to Trinity Youth, a big gathering of youth from churches in the Trinity Network. Trinity Youth is held at Temple Christian College (Mile End Campus) and includes games, music, Bible talks, friends, food and fun! It's a great opportunity to learn about God while having heaps of fun with other youth from around Adelaide.
You can find more details about Trinity Youth, including dates and FAQs at www.trinity.church/youth.
Travelling to Temple College
Parents are welcome to drop off and pick up their youth at the venue, but we also have a group that travels together via train.
We meet to get on the train that leaves Oaklands Station at 6:21pm and arrives at Mile End at 6:39pm. Youth can be signed in at the station and given wristbands so that when they arrive at Trinity Youth they can skip the queues and go straight in. It's good to be at the station in plenty of time to find our leaders (who'll be wearing Trinity Youth gear and lanyards) and make sure they've got your details .
At the end of the night, we catch the train that leaves Mile End station at 9:04pm, scheduled to get to Oaklands at 9:21pm where youth can be picked up.
Local Events
On Fridays where we're not travelling together to the large combined events we meet locally at the Holdfast Bay Community Centre. These events have a different aim and different vibe to the combined events. We still have some fun and we might occasionally do a short talk, but the key is a good length of time in small group bible study, focusing on discipleship and rich relationship building.
What does a typical night look like?
After arriving at 7:15, there'll be time for a game or some mucking around. This will often be split into seniors (years 10-12) and juniors (years 7-9), although sometimes we might do a more elaborate all-in game. We'll have supper about 8pm, and then the rest of our evening will be in our small group bible studies.
Who can come?
Like the combined events, anyone in years 7-12 is welcome. While the combined events might be a better for someone who's new to Jesus, we'll still make an effort to be welcoming and to make our content accessible for whoever comes along.
When are the Events?
We alternate fortnightly on Fridays between our large events and our local events. Here are our dates for Term 4, 2020:
October 16 – Large Event – 7pm @Temple College
October 23 – Local Event – 7:15pm @Holdfast Bay
October 30 – Large Event – 7pm @Temple College
November 6 – Local Event – 7:15pm @Holdfast Bay
November 13 – Large Event – 7pm @Temple College
November 20 – Local Event – 7:15pm @Holdfast Bay
November 27 – Large Event – 7pm @Temple College
December 4 – Local Event – 7:15pm @Holdfast Bay
December 11 – Large Event – 7pm @Temple College
Registration
We require you to complete our youth registration form so that we can provide the best level of care while your child is under our supervision. The information provided will be treated confidentially within our team and used in compliance with the Trinity Network Privacy Policy. Please note that registration covers our large Trinity Youth events as well as our local events.
Payment
We charge $40 per person per term for youth group. This includes both our our large Trinity Youth events as well as our local events and works out to just under $5 a night. If youth only want to come a few times they're welcome to pay $5 per night they attend. First timers and occasional visitors are free. We don't take cash payments at youth group, so please make payments online using the following details:
Account Name: Friends of Trinity Trust – Bay
Bank: Commonwealth Bank of Australia
BSB: 065 000
Account Number: 1174 1163
Reference: Trinity Youth – (INSERT LASTNAME)
More information?
If you've got any questions, would like to double check details before coming along or would like more information about our youth ministry, please contact Matt Winter.