We'd love you to visit us at Trinity Church Brighton this Sunday (or any Sunday!!)
It doesn't matter if you grew up going to church, haven't been to a church in your life, or haven't stepped in to a church for years—we'd love for you to come along and bring any questions you may have with you.
Click here to find out about how we're being COVID Safe as a church and what this will look like when you come along on a Sunday.
If you're new, you can find all the info about where we are and what to expect below.
When & Where
We meet at 10am on Sundays, in the auditorium at McAuley Community School. Plenty of parking is available, with the best entrance via King George Avenue, although there are also car parks on Colton Avenue. Just look for the signs to point you in the right direction once you've parked.
If you prefer public transport we're a short walk from Hove Station, or from Bus Stop 34 on Brighton Road.
What to expect
Before
When you arrive at McAuley Community School, someone will welcome you and answer any logistical questions you may have.
Our regulars try to arrive by about 9:45am to make sure they have plenty of time to get in, find a seat, and grab a drink. We have free tea, hot chocolate or barista made coffee available from our coffee cart.
Take a seat when you are ready, anywhere you like. With COVID restrictions in place our chairs are currently spaced out, however we're also happy for people to move chairs to sit how they feel comfortable. We also ask people to leave a gap of two chairs between themselves and anyone who's not a member of their household.
You don't need to bring anything with you, but lots of our members bring a "church" pack with a few things in a bag like a drink bottle, a snack, a pen, a notebook and a bible if you have one.
Remember, if you're feeling unwell, please stay home. You can always keep connected via our basic online services.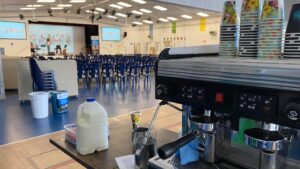 During
Our 10am Sunday gathering is when our whole community comes together. Because Jesus is the reason for our community, our Sundays are centred around learning who he is, what he's done, and the promises of eternal hope found in God's word, the Bible.
Due to the COVID-19 Pandemic we aren't currently handing out leaflets or guides, but you can find some helpful info to guide you through our service on our Sunday Hub.
You can expect a Sunday meeting that is:
Open, warm and welcoming to everyone from any background and any walk of life. We know we're right with God because we're forgiven, not because we're good—so we don't expect anything different of anyone else.
Thought-provoking and practical. Jesus isn't a dead historical figure who has some wise words for life. He's God's risen king who is active in shaping who we are—from the big decisions of life to the day-to-day decisions we make. So when we open the Bible and hear about Jesus, we expect to be changed, because the person speaking is alive and knows us like no other.
A celebration and thanksgiving for what God has done for us. So we'll sing about what God has done, reminding each other of the truth, and we'll pray to God, our Father, who longs to hear from his people.
Family-friendly for children of all ages. You can expect to find a segment in each service where the kids will be involved. Kids in primary school or below are also invited to head out for targeted kids programs after the first 20 minutes or so of the service.
Be assured that you won't be pressured, embarrassed into, or asked to do anything you don't want to do. You can participate as much or as little as you like. Our one hope is that you'll hear, see and want to investigate the person who has brought us together.
After
Join us for a tea or coffee and say hi. We have a wide range of people who call Trinity Church Brighton home, and anyone is welcome.

Midweek opportunities
We don't only meet on Sunday mornings. During the week there are other opportunities to learn about Jesus and enjoy time together in community. You can find more information on our ministries page.