Hello church,
Last Sunday Matt gave us a really helpful way of thinking through what it means to pray 'your kingdom come'. It means we're praying for God's rule to be expressed in the present in our own lives and in the lives of those around us, and in the future on that great day when Jesus returns. It was a great reminder of two things: First and foremost it was a great reminder of the wonderful news we are privileged to know and share that Jesus is God's great Saviour King. But it was also a great reminder of the blessing it is to sit under Matt's preaching as one of our staff pastors. (If you missed it, here's the link to catch up with the sermon)
So it was timely that this week we were able to clarify a range of decisions that have been made about plans for next year:
–    Our Leadership Team have finalised a break-even budget for 2023 based on an overall giving figure of $250,000 for the year. This is a 10% increase on the 2022 budget, which sounds ambitious, but it is entirely consistent with the generous increase in giving that we've already seen from our church family.
–    This budget does not allow for us to provide for Matt as a full-time associate pastor, however it funds a 0.6FTE associate pastor.
–    Leadership Team sought to give Matt and Annika as much clarity as possible as early as possible so they could prayerfully consider their options in ministry. We are delighted that the Winters announced on Sunday that they will be remaining at Trinity Church Brighton with Matt serving at 0.6FTE with us while exploring some other exciting ministry options to invest his time, skills and gospel passion into. This will also help provide for the Winter family in a sustainable way such that they can plan to remain at Brighton for the foreseeable future. This is a wonderful outcome!
–    In keeping with the model of pastoral leadership that we previously reflected on from Ephesians 4 (you can review the sermon here), we're passionate for Matt and I to continue equipping God's people for service in ministry in all kinds of ways and we're excited to continue to plan for gospel growth under God, by his Spirit, as his word is proclaimed in the years to come.
While we're not a church that wants to be talking about money all the time, this is one of our key expressions of unity and partnership in ministry. For this reason, we're not shy about it either and we also recognise that it is a significant aspect of enabling our gospel outreach to this city that so desperately needs to know Jesus. For those of you that might wonder where all that money goes, here's a graphic that breaks it down simply for us.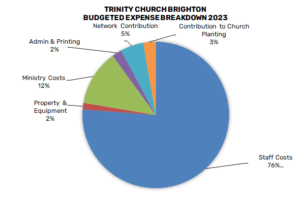 As you can see, the majority of our budget covers the cost of staff. The next biggest component is 'Ministry Costs', which is mainly related to venue hire. The 'Network Contribution' and 'Contribution to Church Planting' wedges reflect our partnership with the Trinity Network of Churches that covers a considerable burden of our administration and our commitment to ongoing outreach through church planting.
If you've got any questions about our budget or ministry plans, please don't hesitate to speak to me or Matt or any of our Leadership Team. We're really keen to be very 'open book' on all of these matters and would be happy to walk you through the detail of the budget if that is helpful to you. If you're keen to update your financial partnership, please make use of the info on our website here.
This is also a good chance to update you on who serves on the Trinity Church Brighton Leadership Team: Mike Hern, Jane Unsworth, Stephen Watson and Paul Wight have all served on the team for some time, while Lauren Hull and Grace Morokai have joined more recently. I am very thankful to God for this wonderful group of gospel-minded, servant-hearted men and women of godly character and firm conviction whom God has equipped with a diversity of gifts to bless our church. Please continue in prayer for them as together we look forward to seeing how God might work in and through his people at Trinity Church Brighton.
(Oh, and by the way, please put Sunday December 11 in your diary for an end of year picnic dinner by the beach… details to follow!)
Your fellow-worker in His field,
Simon Marshman
Senior Pastor
Trinity Church Brighton
0401 387 908
www.trinity.church/brighton